Tart with wafers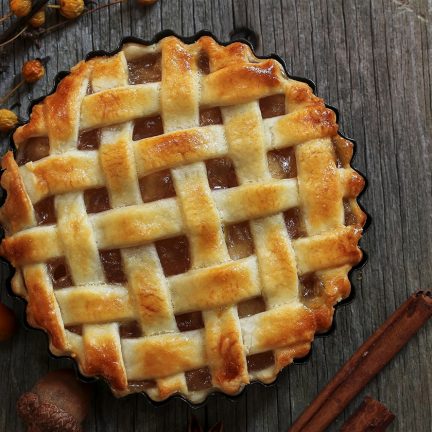 Ingredients
For the shortbread:
250 g of flour
150 g of butter
1 egg
1 tablespoon sugar
For the filling:
250 g of ricotta cheese
175 g of hazelnut wafers
4 tablespoons spreadable cocoa cream
50 g of sugar
50 g of chopped up hazelnuts
Preparation
Make the shortbread by mixing together all the ingredients until a soft ball is formed,
cover it with stretch wrap and let it rest
in the refrigerator for 15 minutes.
Meanwhile prepare the filling by mixing the ricotta cheese and sugar.
Add the crumbled wafers, the cocoa cream and the chopped up hazelnuts.
Spread 2/3 of the dough in a cake pan (buttered or lined with baking paper so it does not stick), leaving 1/3 to the side for the decoration.
Spread the filling on the base and decorate
by criss-crossing the strips made earlier.
Place in a pre-heated oven at 180° and bake for 35-40 minutes.