Chocolate salami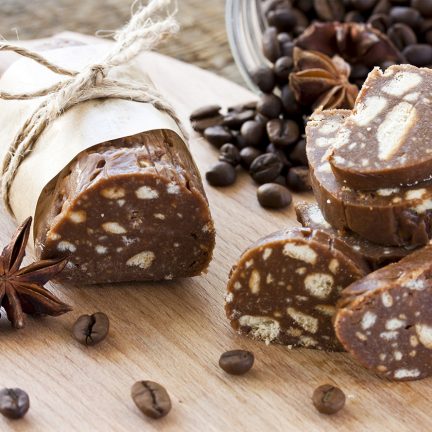 Ingredients
2 egg yolks
2 tablespoons sugar
100g of butter
100g of sugar
2 cucchiai di liquore (meglio all'amaretto)
300g tablespoons liqueur (better if Amaretto flavour)
2 tablespoons cocoa powder
Preparation
Melt the butter in a saucepan and let it cool down.
Crumble the shortbreads roughly.
In a bowl, mix the egg yolks with
two tablespoons of sugar.
Then add the melted butter and the crumbled shortbreads, the cocoa, the sugar and the liqueur. Mix all the ingredients and, using hands,
try to obtain a salami.
Cover it with stretch wrap and then
with aluminium foil.
Let it rest in the refrigerator for at least 3 hours. Put the chocolate salami in the fridge ten minutes before serving.