Stars's wafer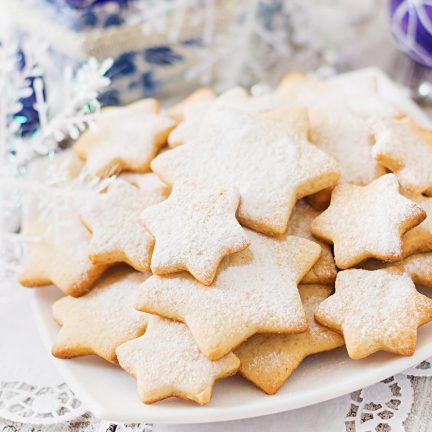 Ingredients
For biscuits:
300 g of "Gastone Lago" vanilla wafer
200 g of baking flour
150 g of butter
1 egg
For decoration:
70 g of dark chocolate
1 tablespoon cream
Preparation
Put the flour in a food processor and add "Gastone Lago" wafers a few at a time.
Add first the cold butter and then
the egg, combine well.
Remove the dough from the food processor, create a ball and place in the refrigerator
for at least one hour.
Roll out the pastry, 0.5 cm thick, cut out the cookies with star shaped cookie cutters and bake at 160° for 15 minutes.
You can decorate them with dark chocolate (70 g) melted in a tablespoon of whipping cream.