Strudel with Amaretto biscuits and Shortbread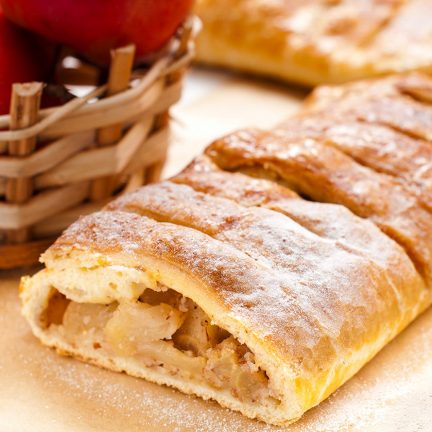 Ingredients
1 puff pastry ready for use
3 apples
100g Shortbread "Gastone Lago"
18/20 Amaretti biscuits "Gastone Lago"
2 tablespoons apricot or peach jam
Preparation
Roll the puff pastry and pierce it with the fork. Peel the apples and cut them into small pieces. Mix the apples, Frollini biscuits and Amaretto biscuits that were previously crumbled and add the remaining ingredients. Spread the filling in the centre of the puff pastry and close it "envelope" style. Sprinkle with caster or cane sugar and bake in a pre-heated oven at 180 C° and bake for 30 minutes. (If you prefer, you can substitute sugar for the confectioner's sugar, which should be sprinkled after the strudel has cooled down).