Gastone's Tiramisù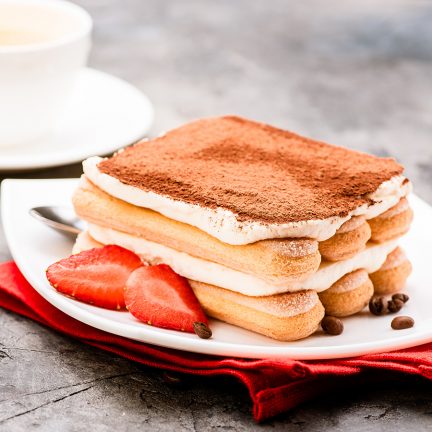 Ingredients
400g Lady fingers Gastone Lago
5 eggs
500g mascarpone cheese
5 tbsp granulated sugar
6 cups lightly sweetened fresh coffee (or 6 cups istant coffee)
2 tbsp unsweetened cocoa powder
Preparation
Inside a bowl, mix the egg yolks with sugar until a smooth mixture is obtained.
In a separate bowl, beat egg whites until stiff.
Add first egg whites and then the Mascarpone cheese a bit at a time.
Dampen the lady fingers with cold coffee and line them in a square baking pan, creating the base of the Tiramisu. Continue alternating a layer of biscuits and a layer of cream (make at least 3 layers of lady fingers).
End the cake with a layer of cream.
Top with sifted cocoa powder. Chill for at least 1 hour.
Serve cold.