Chocolate lady fingers truffles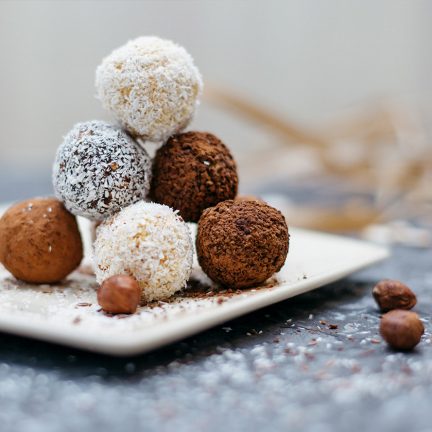 Ingredients
300g of "Gastone Lago" lady fingers
300g of milk or dark chocolate as you prefer
2 spoons of milk
1 little glass of rhum
50g of grated coconut
50g of chopped hazelnuts
Preparation
Chop the chocolate.
Take the grated coconut as well as the chopped hazelnuts and put them into two separate bowls. Take a pot, put some water inside and get it on the cooker. Turn on the cooker a low heat.
Cover the pot with a special lid for 'bagnomaria' cooking and melt your chopped chocolate by adding some milk.
Chop the "Gastone Lago" lady fingers and put them on a bowl, then add the melted chocolate until you get a smooth mixture.
Add rhum and melt all together.
Your dough now is ready : make some little
walnut-shape balls and roll them up into either coconut or hazelnuts.
Put the truffles into some paper cups as they are ready to be served. Enjoy!