Wafer ice-cream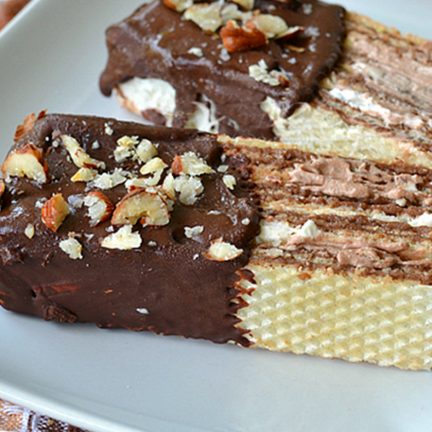 Ingredients
For two ice-creams:
8 "Gastone Lago" wafers (choose any flavor)
whipping cream
cocoa
dark or milk chocolate
hazelnuts
Preparation
In a large bowl stir together whipping
cream and cocoa.
Spread the cream on only one side of the wafer and put one wafer on top of the other, making sure that all cookies stick together.
Use 4 wafers for each ice-cream.
Freeze for at least 30 minutes until stiff.
Melt the chocolate either in the microwave
or using a double boiler.
Ground hazelnuts.
Remove ice-cream from freezer and
place them on a cooling rack.
Pour melted chocolate over the ice-cream, covering only half of it.
Sprinkle with grounded hazelnuts.
Freeze for at least 1 hour and a half.