Cold cake with wafer and mascarpone cheese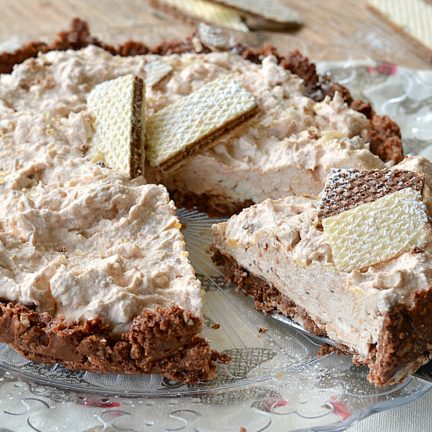 Ingredients
For the base:
200 g halzenut Wafer "Gastone Lago"
100 g whipped cream
1 tablespoon of cocoa
For the cream:
300 g mascarpone cheese (you can substitute it with cottage cheese or philadelphia),
200 g cream (to mount)
100 g icing sugar
8 crumbs Wafer "Gastone Lago"
Preparation
Finely chop the wafers and mix with whipped cream and cocoa, form a very compact dough and transfer everything into a mold of 20-22 cm diameter lined with parchment paper, with the back of a spoon to compact well the bottom and lift including the edges, leaving the base in the refrigerator and in the meantime, prepare the cream.
Whip the cream with the icing sugar.
Combine the mascarpone cream and mix, also join the wafers chopped and stir again.
Pour the cream over the biscuit base and leave it in the refrigerator for about 3 hours, or in the freezer for an hour and a half.
Serve the tart to cool wafers with mascarpone cream decorating it with the wafer in the surface.