Chocolate, Roll and Wafer triumph cake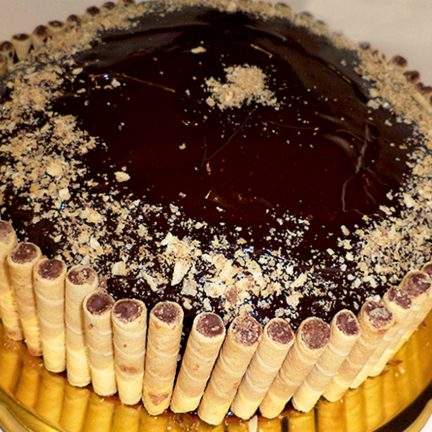 Ingredients
For the cocoa cake:
180 g butter (room temperature)
230 g granulated sugar
6 eggs plus 2 egg yolks (room temperature)
1 tbsp vanilla extract
1 tbsp vanilla flavored icing sugar
180 g cake flour
50 g unsweetened cocoa powder
½ tsp salt
1 tsp baking powder
For the syrup:
150 ml water
50 g granulated sugar
For the Nutella wafer cream filling:
250 g Mascarpone cheese
400 g Nutella
1 tbsp milk (if the Nutella cream is too hard)
100 g "Gastone Lago" cocoa or hazelnut wafers
For the topping:
200 g cups dark chocolate
100 g milk chocolate
160 g whipping cream
400 g "Gastone Lago" Roll
Preparation
Preheat the oven at 180°. In a large bowl, using an electric mixer, beat softened butter and sugar until well blended. Add one egg at a time, until obtaining a smooth yellow cream. Add together egg yolks, vanilla extract and vanilla flavored icing sugar. Stir in sifted flour, sifted cocoa, salt and at last baking powder. Line a 8-inch round cake pan with parchment paper (wetted and wringed out). Pour the filling into the cake pan and smooth the top with a rubber spatula. Bake for about 40 minutes. Remove the cake from the oven and let it cool. Cut horizontally the cake into 3 layers using a sponge cake knife. SYRUP. Put water and sugar into a small pot at medium-low heat. Once the sugar has melted, turn off the heat and let the syrup cool off. CREAM FILLING. In a large bowl, using an electric mixer, beat together Nutella and Mascarpone cheese. If the cream is too stiff add milk. Cut "Gastone Lago" wafers into small pieces. ASSEMBLING. Place the first cocoa cake layer on a platter and dampen it with the syrup; spread evenly half of the cream filling and sprinkle with half of the wafer crumbs. In the same way create the second layer dampening the cake with syrup and using the remaining cream filling and wafer crumbs. Place the last cocoa cake layer on top. Dampen it with all the remaining syrup. Cover the cake with plastic wrap and chill for about 1 hour. TOPPING. Bring to boil the whipping cream and then remove from heat. Add the grounded chocolate and stir until melted. When the chocolate no longer drips from the spoon means that the glaze is ready. Glaze first the sides of the cake and then the top. Place "Gastone Lago" Rolls along the sides of the cake and use crumbles to decorate the top. Chill the cake for about 1 hour. Serve and taste this triumph cake!